Rachael McInerney – Director & Senior Speech Pathologist
Qualifications:
Bachelor of Applied Science – Speech Pathology
Member of Speech Pathology Australia (Certified Practising Speech Pathologist)
Our Director Rachael McInerney has worked as a Paediatric Speech Pathologist for 16 years. Rachael specialises in paediatric feeding difficulties, Augmentative and Alternative Communication (AAC) and early speech/language development. Rachael has worked in clinic and community settings in South Australia and Broken Hill.
Rachael's experience includes extensive work within interdisciplinary, transdisciplinary and multi-disciplinary teams focusing on child development, rehabilitation and disability services from childhood to adolescence. Rachael has experience working with children with disabilities, medical and learning diagnoses including Cerebral Palsy, Autism Spectrum Disorder, developmental delay, Down Syndrome, G-tubes, Gastroesophageal Reflux, Oromotor delays, low muscle tone and sensory difficulties. Rachael also has experience working with adults with communication and feeding difficulties.
Rachael held a position as a Research Officer for 3 years and published papers on the 'Participation Profiles of Children with Complex Communication Needs' (nee Rachael Virgo) under the leadership of Parimala Raghavendra (Associate Professor, Flinders University).
Rachael has presented at conferences nationally including AGOSCI and the Australasian Academy of Cerebral Palsy and Developmental Medicine (AusACPDM). She has provided extensive support and training to children, family, childcare and education staff in the areas of feeding (eg SOS, SOS Food Science, Oral Eating & Drinking Support Workshops, individualized plans for mealtimes/feeding).Augmentative and Alternative Communication (eg Key Word Sign, PODD, Proloquo2go, communication strategies), communication and speech/language (eg Hanen ITTT2, Hanen More Than Words).
Rachael travelled to America in May 2017 to undertake intensive work shadowing at Seattle Children's Hospital and the STAR Institute in Denver. Rachael work shadowed internationally recognised Paediatric Feeding Experts Karen Quinn-Shea (co-developed the Tube Weaning Program at Seattle Children's Hospital), Robin Glass (Author "Feeding & Swallowing Disorders in Infancy") & Dr Kay Toomey (Founder SOS Approach to Feeding).
Rachael has continuously sought additional training to improve the support she can provide to families/children. This has included:
The SOS (Sequential Oral Sensory) Approach to Feeding: When Children Won't Eat: Picky Eaters vs Problem Feeders (Dr Kay Toomey)
Food Scientist Adaptation of the SOS Approach to Feeding (Dr Kay Toomey)
Feeding the Child on the Autism Spectrum (Dr Kay Toomey)
Helping Children Transition off Supplemental Tube Feedings (Dr Kay Toomey)
Managing Paediatric Feeding Difficulties (Dr Pamela Dodrill and Dr Jeanne Marshall),
Feeding Relationship & Eating Competence (Ellyn Satter)
Feeding the Child on the Autism Spectrum (Dr Kay Toomey)
Food Tolerance Decision Making (Dr Kay Toomey)
The Traffic Jam in My Brain: A Sensory Processing Approach to Challenges Associated with Autism, ADHD, ADD, Learning and Behavioural Differneces (Gen Jereb)
A series of topical issues in paediatric dysphagia: Fussy eating; chewing strategies; baby led weaning and medication administration (Dr. Julie Cichero)
Paediatric Videofluoroscopy Workshop: Conducting and Interpreting Videofluoroscopic Swallow Studies in Children (Kelly Weir)
Cervical Auscultation in Dysphagia Management: A practical workshop for speech pathologists working with adult and paediatric dysphagia (Dr Julie Cichero)
Dysphagia Disorder Survey/Dysphagia Management Staging Scale (Dr Justine Joan Sheppard)
Choking Risk Assessment (CRA) and Pneumonia Risk Assessment (PRA) (Dr Justine Joan Sheppard)
Oral Eating and Drinking Support (OEDS) Trainer for childcare/education staff
Food Tolerance Decision Making (Dr Kay Toomey)
Key Word Sign Australia (KWS) Certified Trainer
Pragmatically Organised Dynamic Display (PODD) 2 day introductory workshop
Hanen It Takes Two To Talk (for children 5 years or younger)
Hanen More Than Words (for parents of children 5 years or younger on the autism spectrum and with other social communication difficulties)
Prompts for Restructuring Oral Muscular Phonetic Targets (PROMPT) (Ainsley Poulis).
Rachael's passion for assisting children with feeding difficulties led to the development of a specialised feeding clinic in Adelaide to support children and families with eating/drinking, feeding and mealtimes.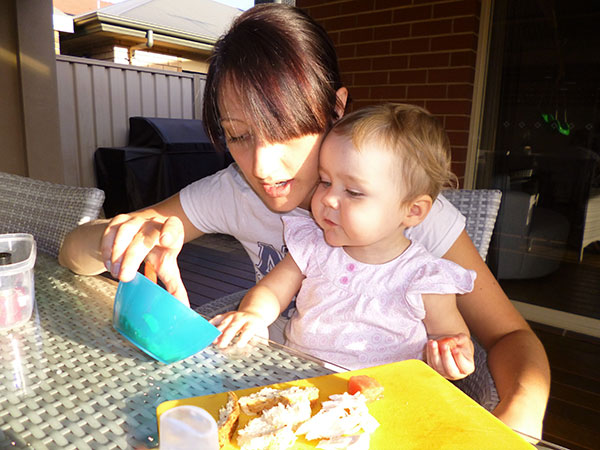 Join Our Team
If you would like to be contacted for future available positions, you are welcome to forward to your CV to: